Back & Abdominal Heat Pad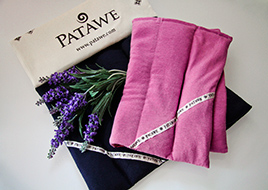 Use the Patawe Back & Abdominal Heat Pad for both hot and cold applications. The Patawe Natural Healing Heat Pad is the first time Organic Thai Jasmine Rice and Thai herbs are applied to create a special heat pad that can be used both hot and cold. It is easy to use and can be reused as many times as needed.
Benefits
Composed of organic grains rich in vitamins, minerals and antioxidants to help protect, nourish, and care for skin plus herbal remedies to alleviate aches and pain, swelling, muscle inflammation and tension. The herbal aroma calms, relieves, and refreshes naturally.
Key Ingredients
| | | |
| --- | --- | --- |
| | Kaffir Lime | disinfectant, antioxidant, regulating |
| | Turmeric | Antiseptic, anti-rheumatic, analgesic, anti-inflammatory, digestive stimulant, evens skin tone and improves skin softness |
| | Lemongrass | Reduces high-blood pressure, improves digestion, relieves colic |
See our full list of natural ingredients
Directions
Instructions for hot compress
Heat in microwave on medium heat (600-800 watt) for 2 minutes.
Test heat on palm before using on body parts especially for back and abdominal surface, neck, shoulder or areas with muscle pain
Instructions for cold compress
Place heat pad in the refrigerator ice compartment for 120 minutes.
Apply on body parts, such as neck, shoulder, back, to swollen areas or areas of muscle pain.
Storage and usage instructions: Use as many times as needed. For hygiene and cleanliness, store heat pad in zip lock bag and keep at room temperature or in the refrigerator at 4-6 degrees Celsius.