Amazing Thai Herbal Heat Pad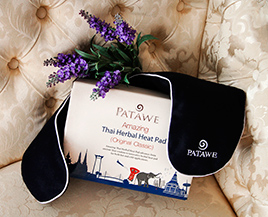 Natural healing heat pad can be used hot or cold, the heat pad has been expertly designed to sit comfortably around the neck and shoulders. Generously filled herb pockets are encased in a beautifully soft and high quality fabric, together with the finest quality Thai herbs that create the most wonderful and relaxing aroma... The perfect blend for tranquillity and luxury helping to ease away tension, muscle soreness and pain.
Benefits
Help calm, refresh and ease respiration
Reduces swelling, muscle inflammation, and bruising
Improves blood circulation
Used to treat muscle sprains, cramps, tendon aches, rheumatic pain, arthritis, and beriberi
Key Ingredients
| | | |
| --- | --- | --- |
| | Lemongrass | Reduces high-blood pressure, improves digestion, relieves colic |
| | Aloe Vera | Moisturising, soothing, protecting |
| | Japanese Mint | Soothes the digestive system, eases respiratory tract problems, can provide pain relief from muscular pain and headaches |
See our full list of natural ingredients
Directions
Put the Thai Herbal Heat Pad into the microwave oven at 600-800 watt for 2 minutes. This will provide enough heat for approximately 15-20 minutes of use.
Apply heat pad to the body, specifically the neck and shoulders
Warning: Do not use for eyes.